Special Offers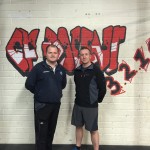 Do you want to get a personal best for the Southampton Half Marathon?
Hello,
Southampton Half Marathon is on 24th April 2016, so now is the time to start training. We have teamed up with Olly Drew from Solent Athletes to offer all our current and former clients an exclusive video running gait analysis and running course discount.
As a brief introduction to Olly click below to view a video of Adam and Olly talking about ITB syndrome, a common runners complaint.
Olly will be starting his next running course on 12th January for 15 weeks. This course will give participants the best possible opportunity of getting a personal best in the Southampton Half Marathon. The course will suit experienced runners wanting to improve their PB, new runners wanting to do their first half marathon, and ex-runners who want to get back into the sport.
If you sign up to Olly's course you will also be eligible to discounts on physiotherapy and sports massage treatments with us. An integrated approach to training for the Southampton half marathon, consisting of running training, improving your running technique and cardio vascular endurance, combined with Physiotherapy and Sports Massage to prevent and treat injuries, will give you the best possible chance of achieving a personal best and taking your running fitness to the next level.
If you would like to find out more please call Adam on 07867 563 952, Olly on 07841 880 686, or visit http://solentathlete.co.uk/ready-to-race-running-course/.
Please note you will need to book the course through us to qualify for a discount and free physio advisory service. Happy running!
Kind regards
Adam
Christmas Opening Times
Mon 21st to Wed 23rd December
– Normal opening times at Solent Business Centre and Gang Warily
Thurs 24th Dec to Sun 3rd Jan
– Solent Business Centre closed
– Gang Warily clinic will also be closed except on
Wed 30th December when Mary Tebb will be working for 1 day to cover any emergency appointments.
Monday 4th January
– Normal service will resume