After clicking subscribe your details will disappear from the list above. Check your e-mail inbox after clicking subscribe as you will be sent an e-mail for you to confirm your subscription. It can take some time for the automated e-mails to work their way through the system, so check again later if you don't get an e mail immediately.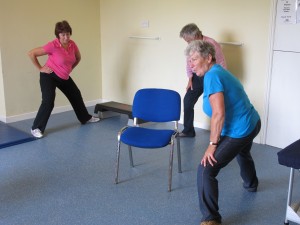 Hip & Knee Rehabilitation Class
This class is designed for people who are suffering from hip or knee osteoarthritis or have undergone hip or knee joint replacement surgery. The class aims to increase strength, restore joint range of movement, improve balance and core stability. The class is designed by physiotherapist Adam Smith-Connor, a specialist in joint replacement rehabilitation.
Classes is run at Gang Warily Recreation Center on Mondays at 3pm.
Testimonials
Class participant Vaughan, 59, whom had both his knees replaced in 2008, found the class very supportive. "We were not asked to do anything we could not do, and everyone worked at their own ability level. I would recommend the class to anyone with knee problems, not just those whom have had replacements. It could prevent your knee from getting worse."

Olivia, 80, whom had both her knees replaced in the last two years, found the class very helpful. "I am aiming to improve my mobility, especially in and out of chairs and up and down stairs. People should definitely come and try the class".
Marcia, 65, had her knee replaced in 2007; "The class was excellent. You can feel isolated when you've had your knee replaced, but this class helps you realize there are others like you. It was very stimulating; people of all ages and abilities took part."
"I have found the exercise class very beneficial after my hip revision operation; it has strengthened my muscles to a great degree and is ongoing. " Mrs J
Class participant Annette had a revision total hip replacement in July 2009, she has been coming to the class since October 2009; "My mobility has improved beyond recognition; I am nearly back to normal and able to tackle most movements. I can't speak highly enough of the class".
Jane has previously undergone knee arthroscopies to both her left and right knee, she has been attending the class since October 2009; "I am delighted to say I rarely have any pain in my arthritic knees since coming to the class. I have complete trust in the staff because of their professional background. I feel I have taken back control. I know I am doing everything I can to improve and maintain my knee strength".
If you would like to attend the class please call 023 8008 9120 to book an assessment or click here to book online.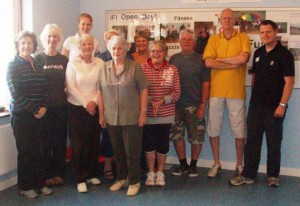 Free Seminar on Joint Replacement Surgery
We have regular free seminars about arthritis and joint replacement surgery. We also talk about the benefits of attending our hip and knee class and regular exercises at this seminar. If you would like to attend our next seminar subscribe to our newsletter above and we will tell you when the next seminar is.